Justin
Your customer doesn't care how much you know until they know how much you care

Damon Richards
Overview:
Good customer service is one of the most important things a business can have. Some businesses go above and beyond, while some do the bare minimum or shockingly less. Today we will look at a few good examples and a few not so good ones, while also giving some advice for what to do and what not to do.
The Do's:
First things first always be as helpful you can be and keep a positive attitude while doing so. You may not always have all the answers but the best thing to do is keep calm and do the best you can to resolve the problem or help the customers. Next respond quickly don't make the customer wait days even weeks for their problem to be resolved, chances are they will have moved on from you and your services. Also have patience and be responsible, always listen and fully hear the customer out on what their problem is and take responsibility for the issue.
The Dont's:
Never tell the customer they are wrong or it is their fault, always take responsibility for the mistake. Don't lie, never make an empty promise if you know there's nothing you can do or it iso out of your control let them know, don't say you can fix it if you know you can not. Like I said in the previous paragraph do not make the customer wait respond as quickly as you can and be as helpful as you can.
Customer Service and Social Media:
For a brand that may not have a in person option proper customer service on social media is very important. It is a much quicker way of answering questions and solving problems as it is just a click away from answering any questions posted. According to Statista over 45% of Americans prefer brands who responded to customer complaints and questions on social media and it helped grow brand loyalty.
Good Examples:
Southwest Airlines:
This is in response to a customer complaint about planes without wifi, Southwest knows times have changed and they jumped right in to respond and fix the customers problem.
Delta Hotels:
This customer booked a room with a not so great view, so Delta offers him tips and advice on where the best views may be.
Nike:
Team Nike stopped right in to help this customer find out how to return an item even though the customer may have been able to find it on his own.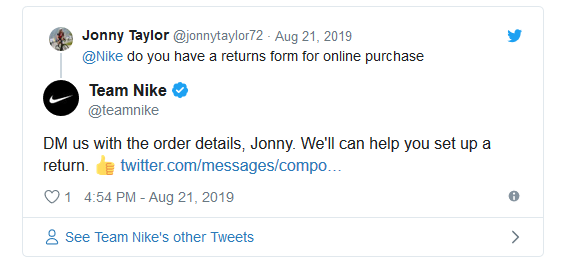 Bad Examples:
British Airways:
They took the time to respond only to say they couldn't help the customer at this time.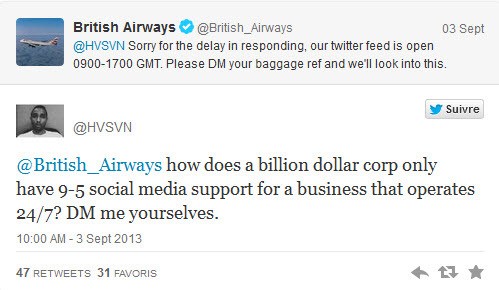 Wendys:
Although it can be funny and they are responding and actually engaging I believe they should focus on their own brand rather then take a cheap shot.
Bank of America:
Instead if actively replying to customers they have the same copy and paste response to everyone.
Conclusion:
I hope you learned more about what to do and what not to do while responding to customers on social media and why it is so important for your business to succeed.
Resources: