No matter how nice or high quality a product is, good customer service is critical for business to thrive in a world that is constantly connected. Consumers are able to review products and services almost immediately after receiving them on a plethora of platforms such as Yelp, Facebook, Google, Etc.(This list could go on and on. You can seriously write a review almost anywhere!) The way that companies choose to respond to criticism online, whether positive or negative, has a much larger impact than you might think. Did you know, "After more than one bad experience, around 80% of consumers say they would rather do business with a competitor."(Zendesk) This means that it is crucial for businesses to provide prompt and excellent customer service in hopes of creating a loyal customer base.
"Customers don't expect you to be perfect. They do expect you to fix things when they go wrong."

Donald Porter, former VP of British Airways
What Makes Good Customer Service
Is it always the situation that makes or breaks customers opinions on your customer service, or is it how the situation is handled? Human error is inevitable; a delivery driver dropping a fragile package, a waitress spilling a drink, or even a company sending you the wrong order. However it is the way businesses respond to incidents like these that will make or break peoples opinions of their customer service, in fact "only one in five consumers will forgive a bad experience at a company whose customer service they rate as "very poor." (Nearly 80% will forgive a bad experience if they rate the service team as "very good.") (Qualtrics XM Institute) So what can these businesses do to deem their customer service "Very Good" to create repeat buyers, despite bad experiences?
Be Friendly and Empathetic

Even though the customer might not always be right in our eyes, it is important to act that way. Even in stressful situations it is always important to reply in a kind and respectful manner to avoid making matters worse.

Keep your promises

If you offer a lifetime grantee or any kind of warranty it is important that you follow-through with that in a timely matter to build customer trust

Maintain an efficient response time

"90% of customers rate an "immediate" response as essential or very important when they have a customer service question." (HubSpot Research) Take advantage of LiveChat options on your website where customers can instantly connect with a customer service representative.

Follow up

Follow up emails or feedback survey's are a great way to show the customer you genuinely care and are there to help
What Good Customer Service Looks Like
Mortons Steakhouse
Author, Peter Shankman was boarding his flight from Tampa back to his home in New Jersey. Before takeoff his mouth was watering thinking about a delicious steak dinner, even though he wouldn't be home until well after 8:30pm. Peter jokingly sent a tweet to one of his favorite steakhouses, Mortons, which is about a 40 minute drive from the airport. 
Shankman explains "Let's understand: I was joking. I had absolutely no expectations of anything from that Tweet." About two and a half hours later after de boarding the plane, Peter was greeted by an unfamiliar face. Alex from Mortons in Hackensack was waiting at his gate with a 24oz. Porterhouse steak, shrimp, potatoes, and dinner rolls. The post went viral, and people went crazy on twitter raving about the customer service.
Lego
In 2013 7 year old Luka lost his lego figurine when he took it do the shop and it fell out of his coat pocket. Luka's dad encouraged him to write to Legos customer service department explaining the situation, and asking for a replacement piece. Lego's response is truly heartwarming.
Richard from Lego is awesome! Not only does he satisfy Luca's need of a new figurine, but he makes up a little story that this little boy will probably remember for the rest of his life and includes a little extra gift. While it may seem small to Lego, this was huge for Luka! This is an awesome example of great customer service.
"To give real service, you must add something which cannot be bought or measured with money, and that is sincerity and integrity"

Donald Adams, Author
What Not So Good Customer Service Looks Like
Pigalle Restaurant Boston
Sandy Tremblay ordred a takeout meal on Thanksgiving, and it was less than satisfactory. She posted on Facebook about her experience, explaining the long list of things wrong with her meal. While there is always two sides to every story and this customer could be over exaggerating, the chefs response was totally uncalled for. Using the business Facebook page, Pigalle Boston, the chef commented back "hey sandy , go f*ck yourself!" The customer spent over $200 on her meal, and even if she was being unreasonable it still doesn't justify vulgar language.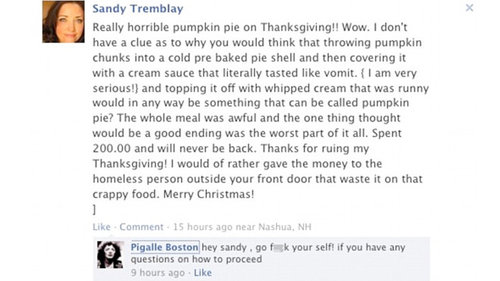 It appears that shortly after this incident, the business shut down. While this may not have been the main reason, I'm sure this situation didn't encourage new customers to stop in. 
Conclusion
I believe having great customer service is key to running a successful business and gaining loyal customers. Social media isn't going anywhere, and more people are using these platforms everyday. Optimizing social media to connect with customers to solve problems and answer questions can build a better reputation for your brand. With the times of toll free numbers and customer service counters fading away, it is crucial for businesses to step up their customer service game!
Sources
https://www.forbes.com/sites/forbesbusinesscouncil/2022/02/02/eight-tips-for-providing-excellent-customer-service/?sh=576c29fb259c
https://www.helpscout.com/75-customer-service-facts-quotes-statistics/
https://www.indeed.com/career-advice/career-development/provide-excellent-customer-service