Importance of Social Media Customer Service
As we continue to see over and over again, Customer Service is so important! It's the support you offer your customers, before or after they buy and use your products or services. Providing them with an easy and enjoyable experience with you. Social media customer service is just as important! Social media customer service is the practice of using social tools to resolve customer questions or concerns. Social customer support is very effective because it allows customers to reach your team on platforms that they already use and is right at their fingertips.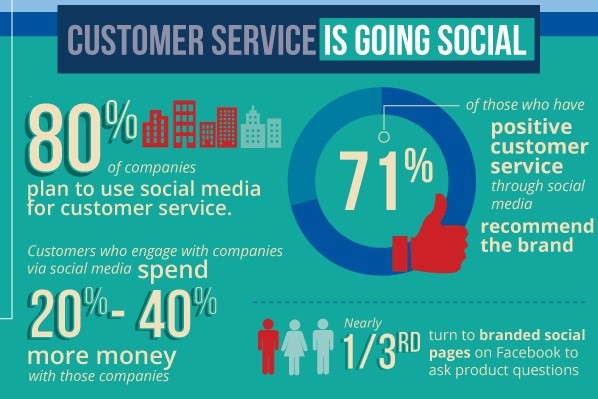 So many businesses have had an online presence since 2020 during the pandemic. What does that mean?! Customer Service is going social!
Businesses that continue to use social media solely as a promotional tool and dismiss all grounds for two-way communication are missing a big opportunity to increase customer satisfaction. Social media is no longer only used for posting photos, and sharing life updates. Social media now includes shopping and customer service. A lot of consumers discover new companies and brands on social media, which in turn, creates more traction in customers service. 90% of shoppers say that they use social media to reach out about customer service issues. WOW! Is your business providing the level of social media customer service experiences that your clients expect?
What is Social Media Customer Service?
Social media customer service is providing automated and live customer service and support via social media platforms like Facebook, Instagram, Twitter, and more. This means your customers can contact the company directly from their own social media profiles when they have a question, comment, or concern. Customers like to use a social media platform due to the quick response time and ease for them. I mean, think about how often you have your phone in your hand and how much easier it is to send a quick message versus looking up your "email" address from your website and maybe hear back within a few days if you are lucky. Also, some consumers like to publicly express their frustration or compliment about your business.
Examples of Great Social Media Customer Service
Here are a couple examples that show what great social media customer service looks like.
Here is a great example between a customer and a Delta Hotels representative.
Delta Hotel's response was effective because:
The customer posted and received a reponse same day
Customer was posting in regards to the room being nice, however, the view, not so much. Detla asked where they were staying to give an option of possibly finding a different room for a better view
Proactively reaching out to assist
Asking the customer to reach out for future trips
I know if I were this customer, I would be very happy with this response. I honestly wouldn't have even thought I would have received a response. Well done, Delta Hotels! I bet this customer will be happy to book with them again in the future, especially due to the experience this representative was able to provide.
Here is a great example of Starbucks reaching out to a satisfied customer.
Starbucks response was effective because:
Thanked the customer for coming in, along with using her name. Way to make it personalized
Responded promptly, less than one hour
Made the customer feel special and called out, "can't wait to see you again for more Sarlted Carmel Mocha magic!"
I absolutely love the personalization in Starbuck's response! I would definitely want to come back for more!
Example of "Needs Improvement" Social Media Customer Service
Here is an example of an interaction between a consumer and Old Spice.
What could Old Spice have done differently:
The customer posted on June 9th and Old Spice responded three days later
It is great that the representative appologized and wanted to make it right, however, ended up with "give us a call"
Could have offered to contact the customer direct, versus making them jump through hoops, expecially after he responded with the long wait times.
Channel switching should be avoided. Don't push to calling customer searching, there is a reason why they reached out via social media
Overall, if I were the customer, I don't think I would be very happy. I would feel like I was getting the runaround and that nobody wants to help me. If the representative would have responded more timely, offered to troubleshoot, reached out in a private DM, and key thing "make it easy to do business with" it would have made a huge difference.
In conclusion, when it comes down to providing a positive customer experience on social media you want to ensure you are prompt, acknowledge the issues/compliment/concern, make it personal, use empathy when it is needed, and make it easy to do business with. Customers want to know they are being heard. If you continue to provide a positive customer experience, you will have the customers coming back for more!